The ide3a network is proud to announce that this year's AGU 2022 Fall Meeting taking place from the 12th to the 16th of December in Chicago was attended by our dear colleagues Giuseppe Angelini and Markus Fischer in person.
This year's AGU conference was attended by around 25,000 participants representing scientists, teaching personnel, as well as policymakers from more than 100 countries in a hybrid manner fostering a breeding ground to form international collaborations for a sustainable future; therefore offering a great opportunity for the ide3a network to promote the network itself and to present the serious game 'ConnectiCity' to an international scientific audience to obtain valuable feedback and for further improvement.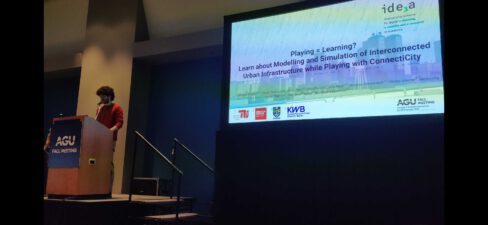 The oral presentation of Giuseppe Angelini entitled Playing = Learning? Learn about Modelling and Simulation of Interconnected Urban Infrastructure while Playing with ConnectiCity was held on the first conference day. Markus Fischer took it up on him with a poster presentation on Thursday entitled ide3a – A Multidisciplinary and International Eduaction Platform on Interconnected Urban Infrastructure Systems Under Review. Both presentations were very well received by the audience showing ide3a's great potential in the scientific community.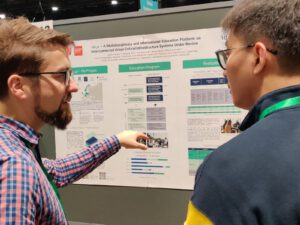 We once again, would thank Giuseppe Angelini and Markus Fischer for the participation as well as the organizers of AGU for this amazing opportunity.