The ide3a network is proud to announce the release of ConnectiCity, the open-source serious game that teaches you about climate-resilient cities and inteconnected critical infrastructure systems!
Climate change and urbanization are posing major challenges to sustainable urban development, which needs to address the increasing risk of extreme hydroclimatic events such as flooding, population growth, growing demands for resources, housing shortage, and increased traffic. The serious game ConnectiCity has been developed by the ide3a project partners and led by our game developer Giuseppe Angelini at the Technische Universität Berlin. ConnectiCity aims to provide its player base with comprehensive understanding of the aforementioned challenges, their impact on interconnected critical urban infrastructure systems, and possible solutions to effectively mitigate them in an interactive educational environment.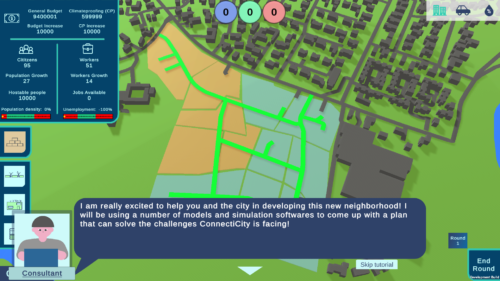 In the game, players are tasked with developing a new neighborhood in the city of ConnectiCity, while also protecting it from flash floods with the use of Blue-Green Infrastructure (BGI) solutions and managing traffic with strategically placed bus stops. ConnectiCity introduces its players to this task by assigning them the role of an expert planning consultant hired by Connie, the city´s mayor. Throughout the game, players are awarded points based on the social, economic, and environmental impact of their decisions.
As a project oriented towards education, ConnectiCity provides a fun and interactive way for students to learn about urban planning, sustainability, and the importance of resilient interconnected infrastructure systems, with a focus on stormwater and mobility networks. By fostering a deeper understanding of climate-resilient cities and interconnected critical urban infrastructure, ConnectiCity empowers students to become agents of change and contribute to the development of sustainable and resilient cities.
The final version of ConnectiCity was first presented on the 20th of March at the FUTURIUM in Berlin during the celebration for the start of the second funding phase of the Einstein Center Digital Future, attended by leading stakeholders of digitalization in Berlin. Today, we are happy to officially release it as an open-source game granting its users access to its legacy code and enabling its users to customize the settings of the game.  
Do you want to know more about ConnectiCity? Check out the promotional video below and the following resources:
· ConnectiCity release and GitHub repository
· ConnectiCity documentation